You are the valued customer
We need to know what you think of us as a company, our drivers, and our office staff. Tell us what's good and what could be better. Tell us what else we should be doing to give you the customer an even higher standard of service.
Have your say at: enquiries@allnightcars.co.uk
Click on link above and leave any feed back. Tell us if it's ok to publish your comments on the website by typing "Publish" or "Not publish" on any messages you leave.
You can leave anonymous comments or you can ask us for a reply by typing "Reply please".
We guarantee we will not sell or provide you contact details to any third party companies. Read our Privacy Policy for more information on how we use your data. All Night Cars reserve the right to respond to any of your published comments. Any abusive and insulting language will not be published.
1. How can I order a private hire from All Night Cars?
By phone: 01322 221100 or 01322 222555
Use our website: Book Online
For fully contactless bookings, please use our free app
At the Office: All Night Car Hire 47 Hythe Street Dartford Kent DA1 1BG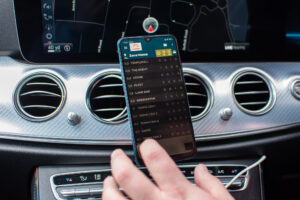 2. How can I check how much I will have to pay?
By using our app or website: Add pick-up and drop-off points, and our app or online booker will calculate your approximate fare.
By phone: Tell us the all pick-up and drop-off points and ask for a quote.
All our vehicles are recently fitted with fare calculators so you can see what the fare is. At the beginning of your journey, the screen will show a minimum fare charge (for the first 2 miles), or the full fare if your trip has a fixed price.
3. Can a wheelchair accessible vehicle be provided?
YES. The All Night Cars fleet includes wheelchair accessible vehicles. Just ask for one when you book a car.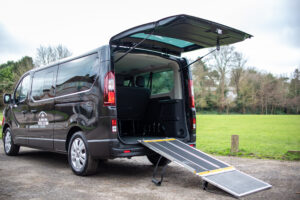 4. I don't have cash on me, can I pay by card?
YES. Use our booking app , register your card and you don't need to use cash any more , also most of our fleet have in-car chip & pin card machines. Tell us if you need chip & pin car when you book. You can also pay by card in our office before your journey begins. Or use our pre-paid Priority Card.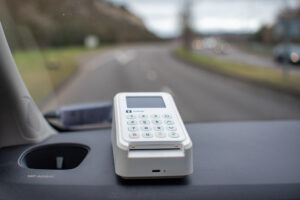 5. What should I do if I'm not sure that the fare I paid was correct?
Drivers are required to take the shortest route unless asked by the customer to take a different route. If the route the customer has asked the driver to take is longer, the fare will be higher. Fare is displayed on in car Fare Calculator.  If you have any doubts about the fare charged:
1. Ask the driver for a receipt and get him to put his badge number and/or call sign number on it.
2. Make a note of his/her badge number or the vehicle licence number which is displayed on the left hand side of the windscreen or on the licence plate on the rear of the vehicle.
3. Then contact our office (phone or email) and we will look into it on your behalf. All of our cars are tracked on a GPS computer and we can retrace your journey to check the route taken and the price charged.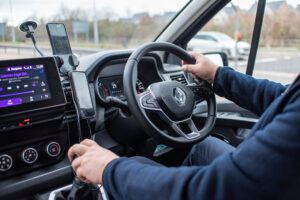 6. I like the service provided on my last journey; can I ask for the same driver next time?
All our drivers are qualified to provide you with the best possible service. You can request to have the same driver again and we will do our best to meet your request. However, it subject to the driver's availability. Please ask at time of booking.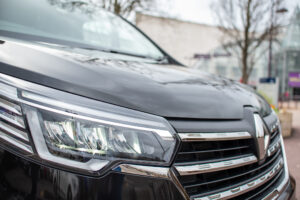 7. How can I book an airport transfer, can I go only one way?
By our booking app
By phone: 01322 221100 or 01322 222555
Use our website: Airport Transfer
At the Office: All Night Car Hire 47 Hythe Street Dartford Kent DA1 1BG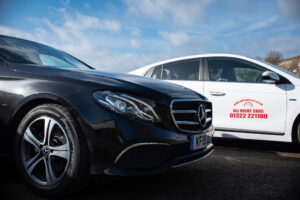 All airport transfers have discount prices, you can book one way or return journey.
If you requested a pick-up only from an airport or any other destination, the journey will have to be pre-booked and pre-payed before we pick you up.
8. I need a private hire at the same time every weekday, do I have to book it every single day?
No. if you request a regular booking it can be set up for you. Just tell us when you book which days and times you need to be pick-up and for how long you like to set it up (week, month, till cancel). Than the only think you have to remember is to let us know when you don't need a private hire.